Mohegan Gaming reports the outcomes of 2nd quarter revenue
Mohegan Gaming & Entertainment reported a net loss for 2022' Q2 after they had a 28.7% profit growth. 
The amount of the whole income for 3 months from all parts of the business was 358.5m dollars higher from 2021's 278.6m dollars. 
261.5 m dollars was the profit from gaming, which means it grew by 25%, 28.9m dollars came from F&B 117% higher, hotel revenue was 24.9m dollars (44.8%) and the profit from other fields was 43.2m dollars (11.1%).
Connecticut's Mohegan Sun Casino and Resort saw a 215.5m dollars income, which is 14 % more from 2021. Pennsylvania's Mohegan Sun Pocono registered 62.2m dollars (18.7%).
Although many casinos were forced to close because of coronavirus, Canadian Niagara Resorts increased by 278.3% amounting to 52.3m dollars.
Management development and other departments were 15.6 m dollars, decreasing by 23.1%, but corporate income lowered by 90.6% amounting to 241 thousand dollars.  
Costs and operating finances were 301m dollars (28.7%); they also had 60.2 m dollars from other expenses. 
Operator saw 276 thousand dollars from income tax, which means they had a 2.8m dollars net loss. 
MGE also has some losses due to negative foreign currency translation and non-controlling interests. 
EBITDA was 86.7m dollars, 7.4% more from last year.
In the words of CEO R. Pineault, though visitation was shortened because of the Omicron, EBITDA good results show strong performance. 
CFO C. Anderson said that these results show how MGE took some necessary actions such as introducing lower margins, including temporary reductions for different expenses, and adapted to working with the virus.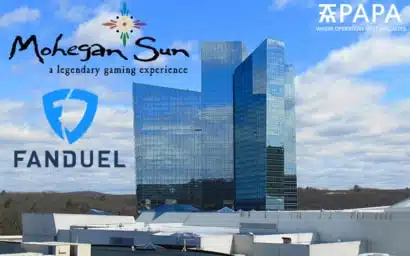 Headquartered in Connecticut, Mohegan Gaming & Entertainment is launching a land-based sportsbook in collaboration with FanDuel today, September 30th.
The famous fantasy sports provider – FanDuel publicizes a market-entrance agreement with Tribal partner – Mohegan Gaming, broadening the latter's opportunities.