Case: King Billy Casino and Casino Guru join forces to solve players' issues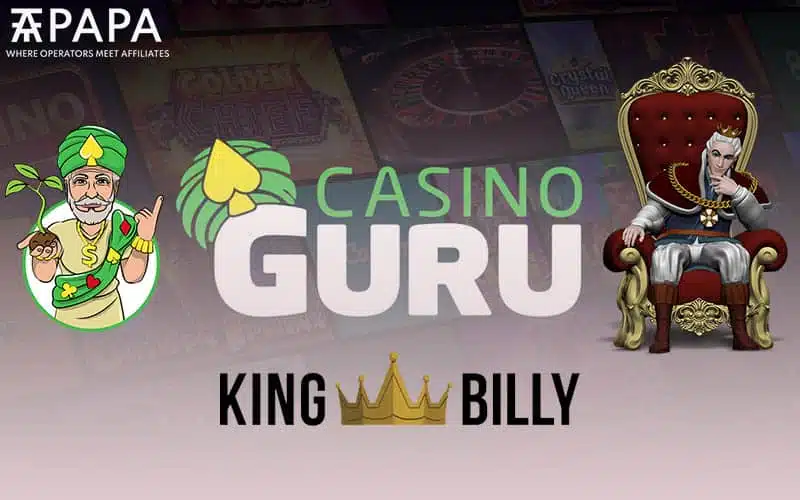 How Operators and Affiliates can collaborate smoothly and solve players' issues.
About King Billy Casino
King Billy is a 15 times awarded online casino for real money and cryptocurrencies, operating under a Curaçao license. On the operator's website at kingbillycasino.com you can often see King Billy Casino referred to as "the land of King Billy", "the land of online casino games" or "the land of joy", where users can find worldwide known online casino slots, table games, poker games and jackpots.
About Casino Guru
Casino Guru is an independent online casino resource, where currently 14 hard-working casino reviewers are all gathered with a collective mission to issue honest casino reviews for their visitors. Casino Guru's team of programmers, mathematicians and other professionals with a technical background are the ones behind the website's thorough casino reviews.
The material for this case study was provided to us by Casino Guru.
Casino Guru recently intervened in a situation where the online casino provider King Billy Casino carried out a KYC (Know Your Customer) check to prove the authenticity of one single player out of their hundreds of thousands. King Billy had a legitimate interest in pursuing this action since the particular player had been flagged by their Anti-Fraud Department.
However, by pushing this player to provide KYC within a certain period (7 days) some anomalies regarding the T&C's of the operator became evident, which could trouble the broader base of the casino's clientele. The Casino Guru team was quick to notice this and notify King Billy about it.
King Billy, on the other hand, was also quick to respond and incorporate revisions in their rules. The revised anti-scammer rules of King Billy reflect this smooth collaboration between the mega casino and the mega affiliate:
"In certain circumstances, we may have to contact You and ask You to provide further information to us directly in order to complete the Checks. We can use such methods of contacting You: email, phone call, Skype call. Casino reserves the right to make a phone call to the number provided in Your member account. We might request for Skype call in case of additional checks, that is a necessary part of the verification procedure. In case you fail in this, we reserve the right to ask you for notarized documents or another reasonable security procedure necessary to verify your identity.

If You do not or cannot provide us with Your correct contact details or we can not reach You by all of the aforementioned methods, then we have the right to suspend or close Your Account permanently. Note, if You fail to provide necessary information, your account has failed security verification, the balance, if any, is subject to confiscation."
This case is an excellent example of what operators and affiliates can achieve when they work together, having in mind the greatest good of the whole industry. When we collaborate, everybody wins (including the players)!
Thank you for making it to the end of this article, and a special thank you to Casino Guru for sharing their insight for this case study with us.
Stay tuned for more case studies to come at affpapa.com !
One of Australia's well-established and secure casinos – King Billy Casino introduces its brand-new King's Games selection to fans.
Read More
King Billy Casino is well known for its amazing deals and AskGamblers is there to lend a hand each time in order to help them spread the word about the bonus. This time...
Read More